Science is fun...4CK!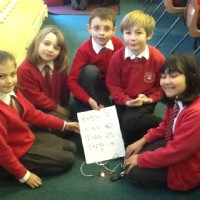 Read all about 4CK's science lesson ... making circuits!
We had a really fun science lesson this week in 4CK. We took part in a science investigation to find out about circuits. We worked in groups and each group was given the same equipment and some brief instructions to make a numbers game. We then went away and discussed with our group how we could make this.
Firstly, we wrote some maths questions on the left hand side of the card and wrote the answers on the right side of the card but in a muddled order.
Secondly, we added some split pins to each question and answer. After that, we connnected some wires to the back of the card making sure each wire was connnected from the question to the correct answer. Finally, we connected the remaining two wires to the bulb and battery.
We then asked friends from different groups to test out our numbers game.
They had to chose an answer and connect one of the wires attached to the circuit to that question. They then had to pick an answer and connect the other wire to that. If they got the answer correct the bulb would light up.
If they got the answer wrong the bulb failed to light up.
We had great fun making these games and we found out more about circuits.
Peter, Hibah, Grace, Connor, Matthew and Rosie 4CK
A Close Match!
Congratulations to all the Year 6 pupils who took part in the high-five netball match against St. Dunstan's School. The team consisted of Jonathan, Harry, Josie, Holly, Will, Katie and Charlotte. The score was 4-4, thanks to goals from Charlotte, Josie and Jonathan. We are all so proud of our hard-working team and would like to say a big thank you to our fantastic teachers, Miss Jux and Mrs Faragher, who gave us a lot of support along the way!
Josie & Holly