Year 5 - week commencing 7th March 2016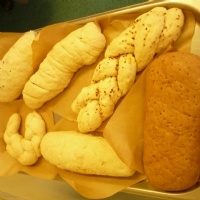 This week, Year 5 were fortunate enough to visit Fullbrook where the pupils performed their own version of the smash-hit musical 'We Will Rock You'.
Celebrating the unforgettable music of the band 'Queen' and their legacy, it was a real treat for everyone in the audience; the actors and actresses, particularly those in the lead roles, were very strong performers with powerful voices and attitudes to match! Their energy and enthusiasm was infectious, so that by the end of the performance everyone was dancing in their seats and singing along! Bravo!
All of our Year 5 classes were also baking this week, as part of their DT project about bread. They combined the ingredients to form the dough then kneaded, proved and shaped their bread into some very professional creations! We hope you enjoyed tasting them at home.