Professor Brainstorm visits New Haw!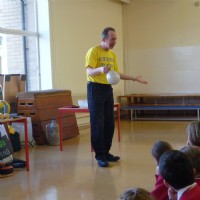 Read our blog to see how Professor Brainstorm inspired our children with science.
Super Science Show!
On Tuesday 5th February, the children of New Haw Junior School had a blast! To help us to celebrate 'Science Week', Professor Brainstorm, an extremely clever and wacky scientist, joined us to put on what can only be described as a magical exploding show. His mission; to make science fun! All year groups, including Year 5, loved his jaw dropping experiments that wowed pupils and teachers alike! One of his most popular experiments, which left us all stunned, was the Spud Gun!! By compressing air inside a metal pole, Professor Brainstorm was able to make potato fly!!
Hannah, a pupil from 5C, left the hall with a huge grin on her face exclaiming, "I never knew that science was so amazing!"
Professor Brainstorm's visit was undoubtedly a spectacular success! Children were left feeling in awe and keen to participate in many exciting scientific experiments in the future!