Year 5 learnt about RESPECT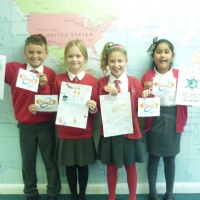 Year 5 children learnt about RESPECT
This week in Year 5, all the children met two of their local community Police Officers when they visited School as part of our PSHCE topic on Respect.
Since September, the children have spent time in class thinking about how they can respect each other and their local environment. For homework, all children designed a poster to encourage everyone to show respect. PC Mount was very impressed with their knowledge and efforts.
In conjunction with Thorpe Park's junior citizen initiative, PC Mount had 4 tickets to Thorpe Park to give as prizes. PC Mount had a very difficult decision to judge who had produced the most effective posters as the standard of entries was high.
The winning children finally selected were Oscar 5C, Aisha 5C, Daisy 5E and Amber 5H. Their posters will now be displayed in the School library along with some of the runners ups.