WW2 drama in year 6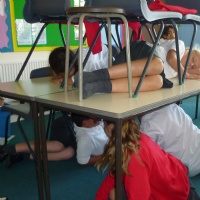 Year 6 dive for cover during the blitz!
Year 6 have been enjoying some drama activities linked to World War Two. Whilst listening to the sounds of air raid sirens, the children dived for cover under tables and chairs, pretending they were in an Anderson Shelter. Everyone was very relieved when they heard the all clear siren!
We were also very shocked to see how many bombs were dropped on London and the surrounding area during the blitz – even as close as Chertsey and West Byfleet!
Soon we will be visiting the Forties Experience to discover what life was like for people during the war.