WASPS Hockey Tournament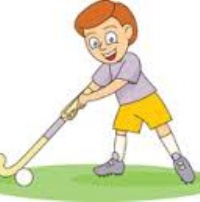 New Haw achieve 3rd place...well done!
New Haw 3rd at WASPs Hockey Tournament
New Haw took part in the annual Woking Hockey Tournament along with 11 other teams. Our team was in pool A which we won in style. We won all five games, scoring 15 goals and only conceding 2.
Our semi-final created an exciting, tension-filled match against West Byfleet B. After scores being equal after both normal time and extra time, it was down to a golden goal. We created many goal opportunities, hitting the post twice! Unfortunately we conceded a goal and the game was lost. Our final game was the playoff for 4th/3rd place (against West Byfleet A team) which we won 2-1 after another close contest.
The event was won by Goldsworth.
Thank you to all children for an entertaining display of skill, determination and team work. Well done.
Thank you to Mrs Mik for her assistance at this event and the support given by all the parents.
Eva Mik (captain), Jonny Boylett, Megan Newton, Hayden Melson, Lily Butcher, Callum Gordon, Emelia Goddard, Adam Erskine.