New Blog Post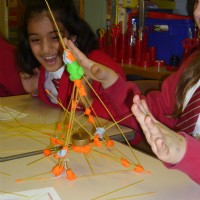 Find out what's been happening in school this week!
Tuesday 29th January was our second time in science club. We had a spaghetti challenge! We were given spaghetti and play dough. Whoever built the tallest structure, which could hold a 50 gram weight, was the winner. We were organised into 6 groups of children.
The winners of the challenge were Alice, Millie and Huma. The winners received a chocolate egg. It was very difficult! You just need to try. If you would like to do this experiment at home you will need: Playdough, Spaghetti and a 50g weight
Written by Umar and Megan
Ancient Animations!
Our Year 5 classrooms have been turned into film production studios this week as we begin to create our very own animations of some Ancient Greek Myths. Orpheus and the Underworld, Perseus and Medusa and Demeter and Persephone will soon be appearing on all our screens!
On Thursday 31st January, we have been painting our backgrounds. It has been very exciting but it also has been hard work. To give our backgrounds extra effect we bought in our own materials.
We are all determined to get our backgrounds finished so we can start to film our mini movies! A variety of materials, such as glitter, glue, paint and pipe-cleaners are being used. Each group are trying their hardest to make their film clips unique. We will have to put all our skills together to create our clips including; art, ICT and being a director.
Lights! Camera! Animation!
By Teagan and Megan S (Class 5HC)