A big thank you from Gardening Club.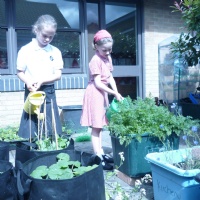 Our Gardening Club have been busy harvesting.
Gardening Club would like to thank the parents and friends of our school for collecting vouchers for Morrisons Let it Grow campaign.
All the equipment has now arrived and the gardening club are busy growing flowers and vegetables. We have already harvested spinach and have collected strawberries today. Still to come we have peas, courgettes and aubergines.