Sportshall Athletic Competition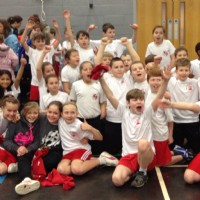 Read all about how are athletics team did in a recent competition at Lightwater Leisure Centre.
On the 23rd of January 2013, 25 pupils from year five and six participated in an indoor athletics competition. Kristian, James, Will, Oliver, Joel, Jonathan, Louis, Joseph, Max, Harry, James, Jack, James, Josie, Emily, Lucy, Megan, Millie, Abigail, Bethany, Holly, Maria, Hannah, Cydney and Zainab ventured over to Lightwater to compete for New Haw.
The competition included a variety of events ranging from obstacle courses to relays and from triple jump to javelin. New Haw came first in a number of activities and our greatest success came at the end of the event when New Haw won both the boys and girls 4 x 100m relay.
We are proud to say that we came second amongst seven other local schools and we look forward to competing again next year.
By Zainab