Year 4 visit to the Roald Dahl Museum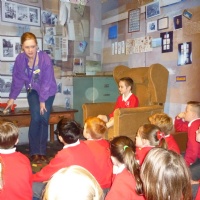 Read a report about the museum, written by Rylie and Ruby
On Wednesday 29th April we visited the Roald Dahl Museum.
First of all we went into a room where a man was telling us about Roald Dahl's life. Then we walked to the church to Roald Dahl's grave. We looked at a memorial bench surrounding the tree which had words engraved on the floor from "The Giraffe, the Pelly and Me" to say goodbye to Roald Dahl.
In one part of the museum there was a room with a man telling us about Roald Dahl.
We had the opportunity to sit on his chair and dress up as characters in his books. We all received a note-book called "My Story Ideas Book" for jotting down notes.
By Rylie and Ruby