Tag Rugby Finals-April 2015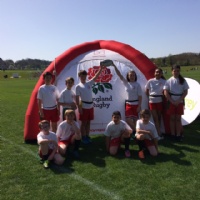 New Haw reach quarter finals of Surrey Rugby Finals
Our year 5 and 6 rugby team represented the Woking area against 25 schools across Surrey. The rules had been slightly changed from our previous games but the team adjusted well.
In the group stage we had to play against St. Mary's, Ravenscote and Royal Alexandra and Albert. We played each game with intensity. We kept the opposition at bay with exceptional tackling and took every opportunity to score by fast evading running and timely team passing. We won all three games, winning the group and moving into the quarter final.
Our next opponents, Stamford Green, were organised and fast. We played exceptionally well but unfortunately could not penetrate their defence on all occasions and narrowly lost.
Congratulations to the team for reaching the last eight of competing schools in Surrey!
Team members; Jonny Boylett, Jasper Cox, Sebastian Binedell, Jamie Best, Daniel Sung, Charlie Weller, Monty Johnson, Megan Newton, Hibah Ahmed and Emelia Goddard.