King of the Hill!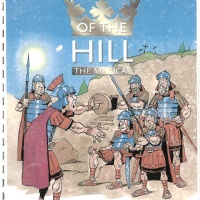 5E's spectacular Easter Assembly!
The sun was shining and the smiles were out as Year 5's Easter assembly drew the Easter term to a close. 5E spent many hours over many weeks learning their lines and practicing their solo's, duets and songs, and what a result!
An amazing performance by all involved, 5E's rendition of "King of the Hill" made for an entertaining and heart-warming tale of the true meaning behind Easter, the suffering of Jesus, his death and his return to life, all told through the eyes of a group of Roman soldiers, charged with guarding his tomb.
The story was made all the more spectacular by the exceptional singing voices of 5E, including the soloists (Lohen, Olivia, Katie D, Erin, Callum, Imaan and Kaitlin), and of course the wonderful choir!
The only thing left to be said is to wish you all a very happy Easter!