New Haw's Got Talent...The Final!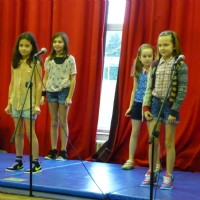 Read about how New Haw's Got Talent and don't forget to visit our Gallery to view the pictures of our stars!
This morning, judges bearing a striking resemblance to Gary Barlow, Kelly Roland and Louis Walsh, were wowed by the amazing talent of 12 acts performing at New Haw Junior School. Pupils ranging from years 3 to 6 showcased a variety of musical and comedy skills that impressed and excited children, parents and teachers. Judges had the difficult decision to choose two winners. Through much deliberation, the names of two rising acts were announced; a dance group from class 4CK and a singing sensation from class 5C. New Haw's Got Talent certainly proved to be a hit; Simon Cowell would definitely have been amazed!