VIP day!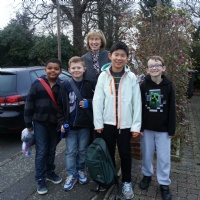 VIP guests arrive at New Haw!
Daniel Sung, our VIP winner, and his special guests Jamie Best, Charles Rees-Bell and Finlay Kirk, gathered at Daniel's house on Friday 15th January to be chauffeured to school by Mrs Cahill. The boys were so excited to be served a delicious breakfast on arriving at school….in Mrs Cahill's office!
At break-time the four boys kindly gave their class-mates a sweet and met Mrs Cahill in the library for some special sweets of their own… rainbow dust, haribos and moams! All their favourites!
After an exciting maths lesson of making cocktails, Mrs Cahill chauffeured the children to lunch at Bourne Valley Garden Centre where they feasted on pasta and ice-cream!
After their assembly, the boys revealed which teachers had been chosen to complete their homework this week! The teachers looked on nervously…… Miss Ward, Miss Bhagwandas, Miss Pavlis and Miss Evenden!!!