Year 6 enjoy making cocktails during their maths lesson!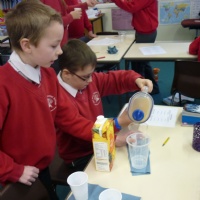 Measuring cocktails in year 6!
Cocktail Parties in Year 6!
Last Friday, excitement could be heard all down the Year 6 corridor as the children and teachers spent their maths lesson making cocktails! Tropical music and beachy backgrounds accompanied the parties, with some children saying it was the best maths lesson they had ever had!
Having learnt all about proportion and ratio during the week, we used different recipes to work out how much of each (non-alcoholic!) ingredient was needed to make each cocktail. Our measuring skills were then put to the test as we accurately poured the juices into the cups. Particular favourites were the Davis Dream, Curtis Crush and Hammond headbanger!!