Malayan Mask Madness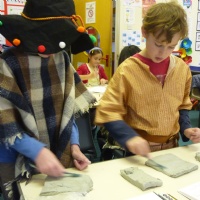 Year 6 participate in clay modelling!
Mayan Mask Madness
Last Friday, Year 6 students spent the morning creating masks of Mayan Gods out of clay. We all enjoyed using the different tools and being able to sculpt the clay, which we hadn't done since Infant school. We had to act quickly before the clay dried and it was really hard to create the facial features such as the Rain God's large hooked nose. Although it was tricky, we all had fun and improved our scultping skills over the course of the morning. Particularly impressive masks were created by Emelia in 6D, Neave in 6C and Chloe in 6H. We will be taking our masks home at the end of this week so you can see them for yourselves!