Year 5 visit to Tesco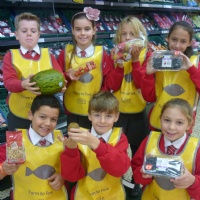 Year 5 enjoy a busy week!
Year 5 have had a very exciting week Arts Week! A carnival atmosphere has been seen in all the classrooms, with the amazing masks and headpieces everyone made for homework. The drumming workshop on Wednesday brought the rhythm and sounds of Central and South America to us all.
Everyone agreed though that the highlight for Year 5 was the trip to Tesco's at Brooklands as part of the Tesco 'Farm to Fork' initiative.Here we explored the fruit and vegetable section looking for the countries of origin of all the products on sale. With the fruits that we found from South America we made our own fruit salads. Next we had a guided tour of the store, including a visit to the very cold fridges and freezers, some of us even got into the back of a Tesco lorry which was making a delivery to the store. The end of the trip saw everyone taking a turn on the checkouts and scaning customer purchasers as they came through the tills.
Thank you Tesco's at Brooklands for making all this possible.