Year 6 enjoy their DT week.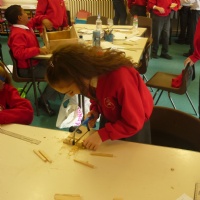 The year 6's are busy making Anderson shelters.
Last week, Year 6 pupils were given the challenge of making a model Anderson Shelter that would withstand the rain and be strong enough to survive a "bomb" attack. The children had lots of fun sawing, hammering and using the glue guns to create their frameworks. After a whole day of creating their shelters, it was time to test them. Some were stronger than others, with one child even being able to jump on his without it breaking! Others collapsed and looked rather soggy by the end of the testing session! Although it was a very tiring day, every child made a successful Anderson shelter and improved their skills in Design and Technology.