Learning about Anglo-Saxons in year 4.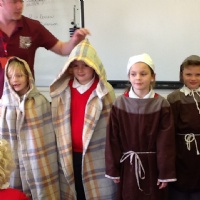 Chertsey museum workshop on Anglo-Saxons.
Year 4 have been learning about the Anglo Saxons in our history lessons.
Chertsey Museum came and showed us many objects and artefacts from the past. Some were the actual orginals and some were replicas! They bought us interesting things to look and learn about. Some examples are a shoe sole and part of a spear. These things were found in a river or undergound.
We also found out that the Saxons loved riddles!
Can you work this out?
The moon is my father,
The sea is my mother,
I have a million brothers and sisters,
I die when I reach land.
(Written by Lana Ramkissoon and Anna Sleightholme, 4B)