VIP day at New Haw!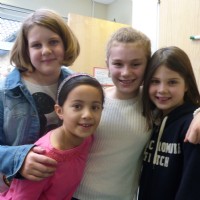 Read about the very special VIP day at New Haw today!
Today some very special VIP's: Teagan, Emily, Jasmine and Sophie were chaffeured to school by Mrs Cahill, waving to their friends on the way!
They had fruit salad and yum yums for breakfast in Mrs Cahill's room. For lunch, they dined at Bourne Valley! Hot off the press... they have each chosen a teacher to do their homework. The lucky victims are Miss Carter, Mrs Makepeace, Mrs Britten and Miss Graham.
A wonderful day was had by all!
A message from our VIP guests Teagan and Sophie:
" At 12 o'clock, Mrs Cahill drove us to Bourne Valley in her shiny, black VW (that smelt of lemons.) Me and Sophie shared a Sprite, Jasmine and Emily shared a Fanta. I had sausage, beans and chips for lunch (yum yum!). It was such a fun day!"
P.S. Mrs Cahill had a toasted sandwich!
"My favourite part of the day was at breaktime because we had sweets and chocolate. I think I will enjoy the teacher doing my homework!"